Jayan Bilathikulam
"Jayan Bilathikulam, the self taught, accomplished architectural consultant and interior designer."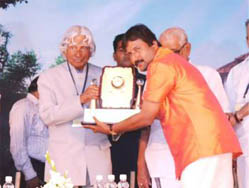 DR A P J ABDUL KALAM PRESENTING A MOMENTO TO JAYAN BILATHIKULAM FOR DESIGNING THE vaidyarathnam ayurvedic MUSEUM BUILDING.
Renovating his own ancestral home at Bilathikulam, Kozhikode, was the stepping stone in his career. It was his concern for the nature and fellow-men, is that what made him a successful and unique designer. Jayan firmly believes in recycling materials in his architectural venture. Rather than creating a concrete jungle, his passion is to design structures that are in tune with the flow of the nature.
An artist by himself, Jayan strongly believes in ancient architectural practices, whether it be Kerala, Colonial, Victorian, Tudor or Oriental. As per the requirement of the client, he incorporates these natural designs in his buildings, whether it be heritage resorts, museums, villas, restaurants or shops. He is adept at incorporating traditional and contemporary designs, thus creating a fusion of beauty. His works emphasise cost-effectiveness, which means creating designs which are more effective or productive and beautiful in relation to its cost. In simple terms, a house which actually costs 25 lakhs will look as if it costs 50 lakhs. Whatever the design, cost or style his designs always stand apart with well coordinated spaces.